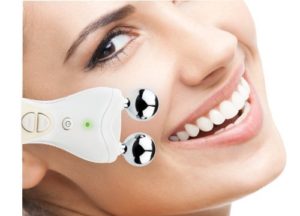 Tired of that sagging skin or in need of a wrinkle free and glowing youthful look?
Yes?
Today might be your lucky day, I'm going to be sharing some of the best health & beauty tips with you. Seriously though let me be blunt:
You need to be aware of the potential issues that stem from ignoring this aspect of your well being…
Let face it, we all need a little help with our aging skin and that early sign of wrinkles creeping up on us gradually as time goes by.
How about those unwanted 'crow's feet' or laughter lines as it known just to mention a few. This can be an early sign of ageing on delicate sagging skins and how do we women push back and keep that youthful look for as long as possible?
Even though it is hard to resist unjustified commenting on beautiful celebrities, I don't have an inside scoop on what they are using to eridicate things like fine lines. But I'm sure most celebrity dermatologists have moved away from invasive treatment methods which usually involves needles and knives.
So what are some of the beauty secret weapons?
In this post, I'm going to go through some of the best at-home facial toning devices on the market, show you direct comparisons as well as pros, Cons, and recommend 10 skin tightening machines you can use right now to help boost your skin tightening, increase tone and glow firmness.
From my research, I found there has been some real advancement in non-invasive beauty products treatments, one of them being the introduction of facial machine for skin tightening. These are treatment devices that can be used safely at home to lift and plump the entire face's every contours.
Top 10 Facial Toner Device 2019 Comparison Table:
Here is a rundown of some of these facial machine skin tightening devices you can start using at home today and what they are best for, their features and of course my honest opinion about each of them. Click through for detail information below.
Recent emails from some of my blog readers got me thinking about ways that you can get instant results in facelifts without taking a drastic action. Most of you were concerned about deflating upper cheeks that create hollow eyes, a problem that is compounded by redness on the cheeks, the following should provide some insight…
What you MUST KNOW before choosing your Face Toner Machine
Radio Frequency Facial Skin Tightening Machine
Some of the many beauty toner machines that exist today uses aesthetic technic called Radio-frequency (RF) skin tightening technic without surgical facelift. It's works by heating the collagen, as a result the skin tightens because of immediate collagen fiber contraction and also from the delayed new collagen formation.
Radio frequency skin tightening machines like TriPollar STOP Facial Skin Renewal Device beauty treatment are some of the pioneer in the world of skin rejuvenation and ant-aging today.
Alternative techniques include Laser Resurfacing and certain Ultrasound alternatives, microcurrent facial, also been proven to be one of the most effective natural and non-surgical techniques design to take some years off your face. One of its advantages is that it can be easily conducted at home using an appropriate home facial device to alleviate the sagging skin.
The Benefits
The benefits of using facial devices are usually based on the type of device you use. Most users report getting positive results and overall skin tone improvement regardless of this fact. Facial devices offer universal benefits which are mostly tied to a younger look thanks to clearing or problem spots. Here are a few notable benefits you can look forward to;
Improves Your Circulatory System.
Usually, facial devices usually claim to offer the best improvement when it come to fine lines and circulation. We do not mind at all, let them all win because this is what you want a facial device to do. It is not just a one benefit deal too, thanks to the improved oxygen circulation, your skin is able to grow and take up nutrients. Your wrinkles start to clear out along with any blemishes leading to skin elasticity.
May Help To Rid You Of Certain Conditions.
Certain people are usually more susceptible to serious reactions of the skin. Also, certain skin
conditions like acne which should clear quite easily may prove to be persistent. Well, in case you suffer from chronic acne facial devices may be the solution you need. Ultrasonic Facial Treatment, for example, can be used on all skin types but, for acne sufferers, it is especially helpful. Thanks to its deep cleansing process stubborn bouts of acne can be completely cured.
Detoxifies Your Body.
We live in a polluted world, and, in a way we cannot escape it if we wish to continue to work and live. Facial devices offer a great solution for this problem. Galvanic facials have been shown to effectively remove impurities that weigh on your body making you seem tired or older.
Skin Care Products Work Even Better.
You may have been having less success as compared to your friends while using the same skin care products like collagen creams. Relax, your friends are not using other products behind your back! A great benefit to using skin tightening machines is that the absence of toxins in your skin enables it to effectively respond to skin care
It Elevates Your Mood.
We are superficial creatures, there is no denying it. At a subconscious level we all seek the approval of others but most importantly ourselves. Using facial devices like frequency skin tightening machine will almost certainly result in a great improvement in how you look. As a perk to this, every time you look at yourself in the mirror, you like what you see and guess what? so will everyone who looks at you. The effect of all this eye feasting is that your mood improves without you even noticing.
Factors to consider when buying a Facial Device.
If you are willing to purchase a facial device, you are probably at a point where you also want as little stress when taking care of your skin. There are some key things you would want to consider before finally buying one
Ease of use
Many devices today come with an exceptionally easy to use system and this should not be any different when it comes to skin tightening machines. The number of detachable parts is usually a key sign that a particular device is easy to use. Some may even have as little as two parts, one as a power source and another as the actual facial device. This may be the best option as it makes cleaning after use easy and all you need to do is connect the two and you're set.
Price
A budget is always an important thing in any journey that requires making any kind of purchase. You want to have the best devices but you don't want to break your bank right? Basically, what you need is value for your money. A great skin tightening facial machine will try to offer as many features as possible but be reasonably priced. Keep in mind that the rule of thumb of pricing also applies to facial devices, a pricier one almost certainly guarantees its quality, just look out for the other things first so that you do not buy one that would prove to be a rip off.
Noise Level
Assuming that you want a relaxed and quiet environment when you take care of your skin, the noise level produced by a facial skin tightening machine is a critical factor to consider. Spas are usually very quiet most people fall asleep during facials and other procedures, this might actually be why spas are good at offering overall wellness solutions. If you want to recreate such an environment at home, you need to pick a device that works as quietly as possible. In my opinion, noisy devices usually come off as clumsy and they seem too have a difficult time getting the job done. I am sure you don't want to think your device is not working, right? Well a silent one can help iron your concern.
Size
Sometimes you may grow attached to your facial device, I don't blame you. It has done a great job and you feel like carrying it whenever you get the chance. Before getting to that point, you need to choose a facial device which is portable enough for you to carry around. Keep in mind that a very small one may not be as effective as a larger one.
Warranty
Manufacturing processes usually result in certain defects, it is usually a probability issue. OK, I won't bore you with complex math but what you need to know is that a longer warranty period is usually a reserve for the best devices across the board. Manufacturers are usually willing to provide a longer warranty period if they are certain that their products are durable. Since this is what you need, I suggest always go for these facial beauty devices with longer warranty periods.
Power
The power consumption of facial devices is usually sort of a bitter sweet moment, although these devices do such great work improving your skin tone, the power bill always hikes. Certain types may require more power than others but if you are set on a particular type, choosing one that maximizes efficiency and minimizes power usage would be a wise choice.
Easy to clean
Facials are usually delicate procedures and cleanliness is a number one priority. The cleanliness of your device may be the make or break factor in your skincare journey. What you need to look for is a device that is easy to clean after use. You want your next session to be as ground breaking as the on you just had and so on. Since you cannot buy a new device each time you want a facial, having a device that you can easily clean is important.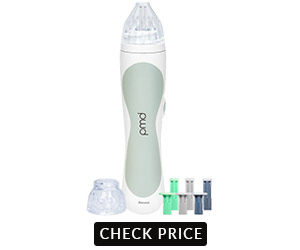 Are you looking for a device to reduce your fine lines and wrinkles? Stop looking further because the PMD Personal Microderm System is now available in the market at a reasonable price. You can say goodbye to your fine lines and wrinkles and welcome to a smoother, brighter, and youthful looking skin.
Personal Microderm System sorts the three processes: exfoliation, vacuum suction, and absorption. By exfoliating, the dead skin cells are removed that supports the natural and healthy growth of cells to reveal your soft and younger looking skin.
The PMD features the combined power of both the patented spinning disc technology and the impeccably calibrated vacuum suction that brightens, smoothens, and evens skin tone. It reduces the appearance of any types of scars and blemishes and enlarges the pores to keep makeup glides on smoothly while the skin care perforates deeply.
Let's know how to use the PMD.
Aside from the benefits of using PMD to your skin, it also provides ease and comfort during application. Just follow the steps below.
Step 1: Clean your skin thoroughly and pat dry. Practice using the white disc on your arm and leg before using it on your face.
Step 2: Pull your skin tightly to support the device in gliding smoothly on your skin.
Step 3: Move the device quickly on your skin in an upward motion.
Step 4: After the treatment, apply the toner and the moisturizer. Then, wash the cap and the filter.
Pros
Uncover vibrant and radiant skin complexion.
Reduces blemishes, fine lines, and wrinkles.
Smoothens and evens skin tone.
Has an easy series of treatment.
Cons
Requires 6-7 days of use.e
Not battery operated, so it's not portable during travel.
Verdict:
After scrutinizing the benefits and features of the Personal Microderm System, I can say that this device is a great buy. It can give you a remarkable result. As a matter of fact, the PMD replicates professional used from exfoliation, vacuum suction, and absorption to fresh and supple skin.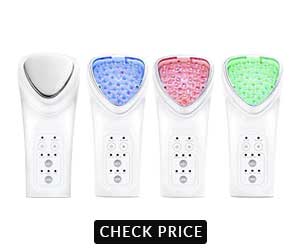 For anyone who is looking for a device that can restore, regenerate and rejuvenate skin but don't want to spend a lot, this is what you need. This is one of the most reasonably priced skin rejuvenation devices available in the market currently.
This advanced rejuvenation system by Sirius is designed to provide facial rejuvenation at the convenience of your home. It combines therapeutic powers of galvanic, micro current and photo facial technologies together so that you can gradually achieve a more youthful look with regular use. It performs three absolutely essential steps to a more younger-looking skin i.e. cleanse, nourish and lift and tone.
This is a non-invasive and non-abrasive skin rejuvenating treatment unlike skin rolling or acid peels. You need to give a few minutes to this device daily and your skin will definitely heal over time. The system of different lights incorporated in this device lets you tackle various problems related to your skin such as dark circles and sunspots.
Pros
You will see amazing results without any side effects.
It makes your skin smooth and also prevents acnes.
It wards off the bacterial invasion.
Cons
It is a bit time-consuming.
Takes time to give noticeable results but it sure does work.
Overall, this is a great product that feels awesome and has remarkable effects on your skin. You will start noticing a younger-looking appearance of your skin in just few months.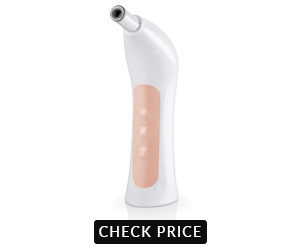 Need a portable, well-made and professional-grade skin rejuvenating system? Well, this compact device uses a combo of diamond exfoliation and gentle suction which gives you radiant and perfectly glowing skin.
It is safe for all skin types including sensitive skin. Now it is completely in your hands to transform and rejuvenate your skin. If you're cynical about all beauty treatments, you need to try this one. It runs quietly and makes your skin smoother and glowing. It has extra heads and other inbuilt features to diminish fine lines, wrinkles, spots and acnes.
With a constant use, you will see outstanding results within a month only. Your skin will feel softer every time you use it. It penetrates moisturizer deep into your skin and extracts blackheads exceptionally well. This is the best exfoliator you will ever come across.
Pros
It comes with various attachments. Each attachment has a specific function to perform.
Makes your pores smaller and also helps reduce blackheads.
The device is super easy to use.
Cons
Instruction manual is not easily comprehensible.
Rarely but skin may get red.
4. Clarisonic Mia1, 1 Speed Sonic Facial Cleansing Brush System – Best Device for Cleansing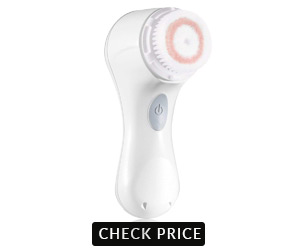 I have included it in this list because I think it fit well in the realm of portability. It is a small budget solution and it works very well. Furthermore it offers a deep cleansing solution that can cure conditions such as acne.
Pros
It is very small and can be packed into pretty much any space.
Does deep cleaning which can get rid of acne.
Cons
It does not come with a warranty.
5. Olay ProX Advanced Cleansing System with Facial Brush – Best On Price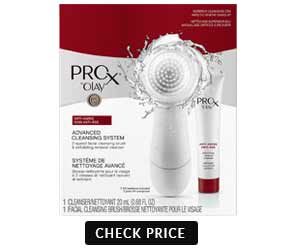 What does this device do?
I have included it in this list because I think it delivers a great deal and it costs close to nothing for a facial device. It is surely the smallest small budget solution. It can be purchased on Amazon at here.
Pros
It is very cheap.
Great for improving the texture of the skin.
Does well even with hard to remove make up.
Cons
It does not come with a warranty
Does not offer much as compared to other facial devices.
What does this device do well?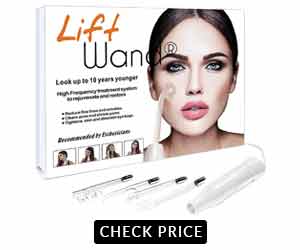 This is arguably one of the best anti aging solutions in the market for a decent bargain. It eliminates wrinkles, removes scars, clears acne, removes dark circles and generally clear any type of blemishes. It is a groundbreaking device which is bound to make your wellness journey a breeze.
I have included it in this list because I think it delivers a great deal without costing you an arm and leg. It is a small budget solution and it works very well. Furthermore it is very easy to use thanks to a two step process involving Argan Oil which softens and heals the skin as the wand treats aging, wrinkles and skin tightening. It can be purchased on Amazon.
Pros
You can notice visible improvements after one session, if there is a lot of drooping.
More strength control than the mini.
Cons
Applying the gel all over your face can be a bit messy.
Requires 5 minutes a day application if you are push for time.
7. Facial Flex Facial Exercise and Neck Toning Kit – Best Budget Pick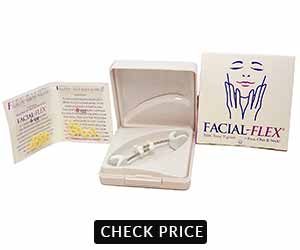 This amazing facial exercise and neck toning kit is your true companion in case you want to regain your youthful look without much ado. This is a simple, well-designed and innovative device that provides resistance muscle training to facial muscles. It tones the face and tightens skin without using any chemicals or other tropical ingredients. This is not some latest device as many of you might think, but it has been around for some 20 years. Originally developed in the 1980s for trauma patients, it is now helping us strengthen and tone our facial muscles.
Features & benefits
This amazing facial exercise and neck toning kit is your true companion in case you want to regain your youthful look without much ado. This is a simple, well-designed and innovative device that provides resistance muscle training to facial muscles. It tones the face and tightens skin without using any chemicals or other tropical ingredients. This is not some latest device as many of you might think, but it has been around for some 20 years. Originally developed in the 1980s for trauma patients, it is now helping us strengthen and tone our facial muscles.
It is one of the first mainstream facial exercise devices that tones the muscles in the cheeks, contours the chin and targets fat in the neck area.
The device provides resistance to certain lip movements with the help of its two horizontal levers that slide in and out towards each other. A set of rubber bands is wrapped around the middle to add resistance. There are different levels of rubber band for increasing resistance gradually. Higher rubber band levels provide more resistance.
It is designed to be used twice a day in the morning and at night. The grooves designed at the ends of this device easily accommodate your lips to keep the device in place.
Pros
Easy to use.
Promotes gentle deep cleanse.
Clinically proven to be safe and effective.
Works exceptionally well on all the 30 muscles of your face, chin, and neck.
Cons
Some customers complained of broken elastic.
It does not come with any instructions.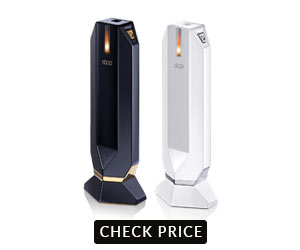 Tripollar Stop is a remarkable skin renewal device designed to remove the signs of aging. It takes a very short time interval to help you regain younger and softer appearance. With this device at your disposal, you do not have to go to professionals for invasive treatments. Its simplified RF technology gives you a non-invasive skin care treatment at the comfort of your home.
Features & benefits
Frequency technology used in this RF device heats up the skin dermis which is a therapeutic action responsible for the stimulation of collagen. This results in tightened, firm and renewed skin with a soft and silky texture.
It is a complete package including a clinic skin renewal device, a 50 ml preparation gel, a 50 ml after treatment gel and a helpful instruction manual.
It regenerates collagen protein by simply transferring RF thermal energy into subcutaneous tissues.
Even though some customers have complained about this product that this is only meant for people with deeper pockets, it is a great replacement to your expensive professional treatments. Thus, it is a one-time investment. It is a time-saving device available with a complete kit to ensure effective results in a short time interval.
Pros
It takes a very short period to see noticeable results.
It works on any skin type and color.
It is more affordable than professional treatments.
Cons
Works well on people who have less saggy skin.
Treatment may cause a little pain sometimes.
It is an expensive machine.
Verdict
If you are looking for the scientifically proven product to tone, lift and rejuvenate your skin, Rio 60 Second Face Lift Facial Toner is the best product to consider.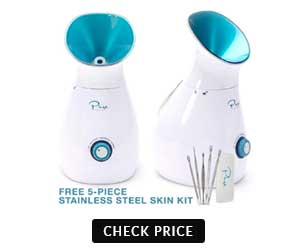 This device unclogs pores and black heads all while offering spa quality cleansing. It also has a humidifier and a timed stem time of 30 minutes along with temperature control to ensure top quality work.
I have included it in this list because it delivers a spa quality type of service and who wouldn't want to clean their face well before applying skincare products, right?
Pros
Great for deep cleaning of the skin.
Induces a comprehensive care pack.
Extremely effective at cleansing since it is multi-functional.
Cons
Does not offer much as compared to other facial devices.
10. Microderm GLO Diamond Microdermabrasion System – Best Cleansing Device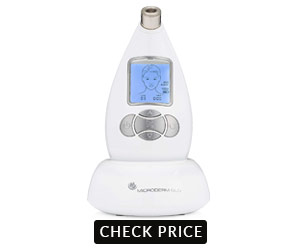 As a busy modern day woman, do you always find yourself left with little time and energy to visit your favorite salon for a facial treatment as often as you'd like to? Well, thanks to Nuvederm's Diamond Microdermabrasion System, you can give yourself one at the comfort of your cozy home with a handheld device.
The Microderm GLO Diamond Microdermabrasion System utilizes a dermatologist approved, spa grade, a patented suction technology that sucks out the oil, dirt, germs and dead cells built upon the surface of your skin exposing a cleaner, fresh layer.
The device features:
• A dual mode -auto and manual
• An ergonomic handle that gives the maximum palm comfort
• Multi-leveled suction settings
• An easy to read screen that displays the settings when on manual mode
• Two diamond tips each specialized for either suction or massage therapy
Let's see some of its wonderful benefits
 Exfoliates the skin- A vital process for allowing growth of new skin cells responsible for a glowing look.
 Keeps aging at bay by reducing the appearance of ugly wrinkles and fine lines leaving your skin looking youthful.
 Promotes a flawless complexion by gradually fading away scars and blemishes that hinder even skin tone.
 Shrinks pores which result in the vanishing of acne, pimples, blackheads and whiteheads breakouts.
Pros
It is not selective. Women of all skin types and ages can effectively use it.
It is highly portable hence you can use it anywhere, anytime at your convenience.
The device has a strong long battery life, enjoying up to three uses with a single charge.
Cons
Causes some small amount of bruising and redness in the beginning.
The filter needs replacement after every use.
The Microderm Glo Diamond Microdermabrasion System is a great cleansing device to incorporate into your weekly skin care routine. While it may not entirely rid your skin of all its imperfections, you will notice significant improvement.